Hunker down or flee? Los Angelenos gird for 'carmageddon' on I-405
With the shutdown of the key I-405 freeway in Los Angeles this weekend threatening 'carmageddon,' city residents and businesses are finding ways to help one another cope.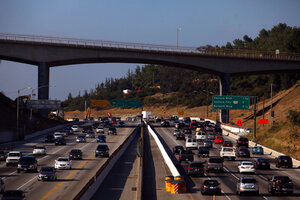 Eric Thayer/Reuters
Mail clerk Jack Jones is flying on a special Jet Blue package from Burbank to Long Beach for just $5 round trip.
Martha Remple, an unemployed mom, will be taking the orange subway line anywhere it goes for free.
Hairdresser Julie Dixon and messenger Randy Galang will leave their Granada Hills homes three hours early for a 7:30 p.m. Saturday night showing of "Evil Dead 2," which is playing under the stars on the lawn of the Hollywood Cemetery.
"It's usually a 20-minute drive but we're not taking any chances," says Ms. Dixon.
How Angelenos are coping, or not, with "carmageddon" – the 53-hour shutdown of a crucial 10-mile segment of freeway here – is the topic of conversation no matter where you go in this city.
From 7 p.m. Friday until 5 a.m. Monday, this segment of Interstate 405 linking the Los Angeles International Airport and the San Fernando Valley – the most traveled freeway in the United States – will be closed so that engineers can demolish a bridge to create a carpool lane.
---