Space shuttle program ends: Were Americans sad to see it go?
The last space shuttle mission ended Thursday when Atlantis landed, and Americans aren't confident that Obama administration knows where to take human spaceflight next.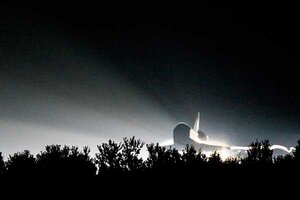 Scott M. Lieberman/AP
Americans opinions about the future of US human spaceflight program appear to be as ambivalent and conflicting as the opinions that now vex the space community itself.
With the landing of Atlantis bringing a formal end to the 30-year space shuttle program Thursday, NASA now turns over space station runs to private rocketmakers and instead focuses on more distant goals, such as sending astronauts to an asteroid, then Mars. But since the private space industry is not yet able to send Americans into space – and won't be for several years – the US will, in the meantime, have to pay Russia $63 million a seat to hitch a ride.
A Monitor/TIPP poll shows clearly that Americans are not pleased by the idea of relying on Russia – or anyone else – to reach space. Some 78 percent of respondents said it was very or somewhat important for the US to maintain its leadership role in space.
Moreover, Americans are not at all convinced that the Obama administration knows where human spaceflight should go from here. Only 9 percent of respondents said the government has a clear plan for the astronaut program.
Similarly, many within the space community have criticized the Obama administration for shuttering the space program and leaving the design and production of a next-generation rocket to a nascent private industry.
---