Hurricane Irene update: Significant threats, even with Category 1
As hurricane Irene moves up the east coast, experts warn that even a storm downgraded to Category 1 can have major threats including tornadoes, coastal storm surges, and flooding.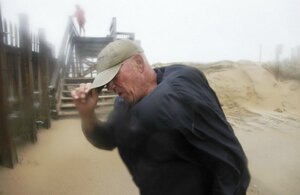 Charles Dharapak/AP
By early afternoon Saturday, the center of hurricane Irene had moved north to about 50 miles west of Cape Hatteras, N.C., according to AccuWeather.com.
It was traveling inexorably NNE at about 15 miles per hour with 85-mph winds gusting to 115 mph. In New York City, some 400 miles away, rain and wind foretold Irene's approach as the public transit system shut down and the region's five major airports stopped taking incoming flights.
In anticipation of what are likely to be expensive response and recovery operations, President Obama has signed emergency declarations for nine states: North Carolina, New York, Virginia, Maryland, New Jersey, Connecticut, New Hampshire, Rhode Island, and Massachusetts.
RECOMMENDED: First look at hurricane Irene: Thankfully, not a 'monster'
Meanwhile, tornado watches are in effect for parts of Delaware, New Jersey, Maryland, and Virginia.
---