Hurricane Irene adds to US farm woes. Will it raise food prices?
Irene's wind and rain damaged East Coast tobacco and corn crops, and flooding has hit New York and Vermont dairy farmers. But the biggest impact on US food prices is still from extreme drought in parts of the South and West.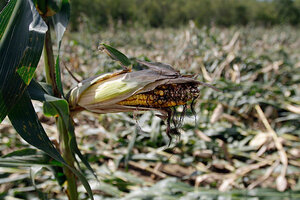 Matt Slocum/AP
With much of the coastal mid-Atlantic and interior New England embarked on a massive cleanup effort from hurricane Irene, farmers are starting to take stock of crop damages that ranged from potentially catastrophic to "could have been worse."
Agriculture Secretary Tom Vilsack toured heavy-hit areas of eastern North Carolina Tuesday, where some farmers have reported total losses in their tobacco fields.
Some stranded dairy farmers in Vermont and New York reportedly have had to dump milk because tanker trucks couldn't make their rounds across broken bridges and roads, and farm-stand and feed corn throughout the region took a heavy hit.
Hudson Valley apples, meanwhile, suffered only an estimated 10 percent loss, the apples still young enough to cling tightly to branches.
"Crop-wise, this is a very tough time of year to have something like this happen," North Carolina Agriculture Commissioner Steve Troxler told reporters. "There are going to be some crops that are a total loss in some areas."
While the final tallies for crop losses could be weeks away, analysts say the storm's impact on food prices, if any, likely will pale compared to the effects of the extreme drought gripping parts of the South and West, including Texas, which has seen a record $5.2 billion crop loss this year.
---