Hurricane Irene by the numbers: state by state damage reports
Federal officials began to survey the damage caused by hurricane Irene – from continued power outages to communities still stranded by floodwaters.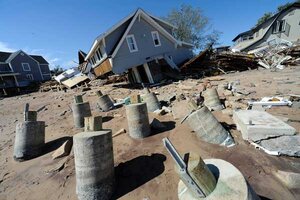 Jessica Hill/AP
From North Carolina to Vermont, federal officials fanned out along the storm-stricken East Coast Tuesday inspecting damage hurricane Irene inflicted over the weekend.
Some 42 deaths have been attributed directly or indirectly to the storm, which struck North Carolina's Outer Banks as a category 1 hurricane last Saturday morning. It made its final landfall Sunday morning at New York City as a tropical storm, then worked its way into New England finally to lose its tropical-storm status over central Maine on Monday.
Along the way high winds, storm surge, and especially the storms torrential rains caused damage initially estimated at between $7 billion and $10 billion.
In Vermont, Craig Fugate, head of the Federal Emergency Management Agency, joined the state's governor, Peter Shumlin (D), along with Sen. Bernie Sanders (I) and Rep. Peter Welch (D) Monday to survey some of the damaged areas.
---