Response to 'credible threat' shows how much has changed since 9/11
Al Qaeda may have been degraded since 2001. But the threat since 9/11 has become more complicated, decentralized and elusive with franchises, affiliates, and homegrown terrorists.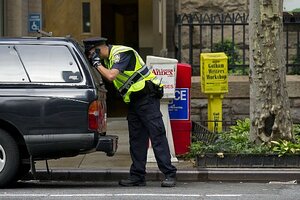 Jin Lee/AP
On Thursday, federal and New York City authorities disclosed that the U.S. had received specific and credible but uncorroborated intelligence indicating three individuals may have entered the U.S. as part of a possible plot to attack Washington or New York on the tenth anniversary of the September 11, 2001 attacks.
Nothing may come of the threat, but national, state, and local law enforcement agencies are taking no chances.
In New York, police are paying particular attention to bridges and tunnels, checking vehicles. Armed transit police and National Guard troops are patrolling Penn Station. Unattended cars parked suspiciously in Washington are being towed, and police there are working 12-hour shifts.
The reason authorities are paying such close attention to the most recent threat may not be because of newly gathered intelligence alone, but rather from a steady string of lower-level attack threats in the US since 9/11, plotted by individuals and small groups inspired by Al Qaeda.
---