How FEMA funding fight led to monster mosquito swarms in N.C.
How to fund FEMA has emerged as the biggest point of contention as Congress seeks to pass a spending bill to avoid a government shutdown this week. In the meantime, those requesting federal emergency relief are wondering if it will ever come.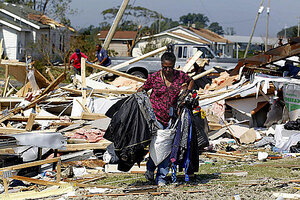 John Bazemore/AP
Disaster-stricken areas from Missouri to North Carolina are watching with anxiety the ongoing battle over federal spending as money for emergency relief dries up.
The money is a central point of contention on Capitol Hill, where Congress is considering spending bills to fund the government and avoid a shutdown Saturday. Republicans insist that any new emergency relief not add to the federal deficit. Democrats say tea party Republicans are playing fast and loose with the lives of disaster victims to score political points.
Meanwhile, in places like Nashville, Tenn., Joplin, Mo., and vast parts of New England, the debate over funding the Federal Emergency Management Agency isn't a theoretical exercise by politicos in Washington. Some areas of North Carolina, for example, have let epic post-hurricane swarms of mosquitos overrun their towns, worried that spraying programs won't be reimbursed by FEMA.
On Friday, Senate Democrats quashed a funding bill because it included $1.6 billion in offsetting cuts to a Department of Energy program that promotes the manufacturing of "green" automobiles. On Monday, Senate Democrats are set to respond with a bill that would supplement FEMA funding without budget offsets. But Republicans likely have enough votes to prevent the bill from getting a filibuster-proof majority.
---