NYPD can shoot down an airliner? Experts troubled.
The NYPD chief says his department can shoot down an airliner in an emergency. But terrorism experts wonder who would give the police that authority.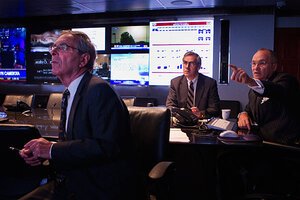 Lucas Jackson/REUTERS/File
New York police chief Ray Kelly raised eyebrows on the CBS show "60 Minutes" Sunday when he said his police department has the means to knock an airplane out of the sky.
CBS's Scott Pelley quickly asked, "Do you mean the NYPD has the means to take down an aircraft?"
Replied Mr. Kelly, "Yes, I prefer not to get into the details, but obviously this would be in an extreme situation."
However extreme that might be, some terrorism experts question whether Kelly does or should have that authority.
"I guarantee it's not the decision of the chief of police in New York City," says Danny Defenbaugh, a retired FBI agent who now has its own security consulting firm in Dallas.
Probably one of the first places that would be actively involved if another 9/11 type of situation came up would be the North American Aerospace Defense Command (NORAD) at Peterson Air Force Base in Colorado Springs, Colo. [Editor's note: The original version of this story listed the wrong location for Peterson Air Force Base.]
---