NLRB vote: Republicans furious over 'microwave' organizing for unions
The NLRB is set to vote Wednesday on 'microwave' organizing – a rule that would help unions organize more quickly and avoid employer interference. Republicans vow to block the move.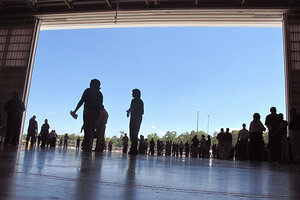 Bruce Smith/AP/File
Under withering attack from Republicans and facing a potential boycott by one of its members, the National Labor Relations Board is set to vote Wednesday on a rule that would dramatically shorten the time between when a union is proposed and when employees hold an election to join.
It's called the "microwave" rule, and by allowing workers to form unions more quickly, it would give employers less time to take legal action – or other steps – to block the move.
The vote puts the NLRB in controversial waters for the second time this year. The board infuriated Republicans earlier this year when it alleged that Boeing moved part of its Dreamliner assembly line to South Carolina – a right-to-work state – in retaliation for union activity at its main plant in Washington State.
It also comes at a time when unions are trying to fend off attacks from Republicans in Congress and in statehouses.
In several states, including New Hampshire and Indiana, conservative lawmakers are trying to curtail labor rights as a strategy for controlling state budgets and encouraging economic growth. Wisconsin has already passed such a bill, leading to a national backlash and state recall elections.
---