With BP oil spill billions at stake, why did Gulf fishermen suddenly settle?
News that 100,000 fishermen and oil spill workers settled with BP for $7.8 billion rather than going to trial suggests a lesson from the Valdez spill: Drawn-out litigation can become its own tragedy.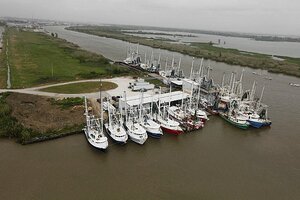 Gerald Herbert/AP
Gulf of Mexico fishermen battered by the aftermath of the 2010 BP oil spill suddenly settled a major class-action lawsuit against BP on Friday, agreeing to what's likely to be a $7.8 billion payout in return for dropping the litigation.
The settlement, representing some 100,000 fishermen, oil spill workers and others isn't likely to please all the potential litigants still trying to get compensated for the economic effects of the spill, the worst in US history, which bled 2.3 million gallons of crude oil into the Gulf's most sensitive estuaries and fishing grounds, and onto its white sand beaches.
Others worried that the deal would simply shift the payout onus from BP onto a small cadre of lawyers, who themselves stand to make millions. And in reaching the settlement, BP managed to clear perhaps the single biggest hurdle to putting the 2010 spill behind it and moving on with oil exploration in the Gulf. It's still embroiled in civil litigation with the US government over spill damages and with Deepwater Horizon contractors over liability.
The Monitor's Weekly News Quiz for Feb. 24-March 2, 2012
To be sure, the settlement, one of the largest class-action settlements in history, is substantially larger than the $1 billion settlement from the Exxon Valdez oil spill in 1989. But while the potential payout in the BP lawsuit could have been larger had the case gone to trial, it's likely that at least some of the claimants and their advisers considered the experience of Alaska fishermen in the wake of the Valdez oil spill, where many believe the 20-year-litigation became an equal, or larger, tragedy than the spill itself. That case was finally settled in 2009.
---