Trayvon Martin case shows evolving influence of black community
The black community – from actors to journalists – has played a crucial role in keeping the Trayvon Martin case in the public spotlight, media analysts say.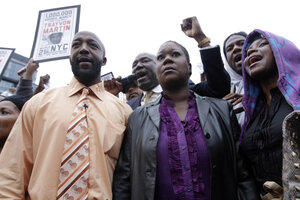 Mary Altaffer/AP
The case of Trayvon Martin is pointing to the important role that that black community has played – both through news outlets and social media – in keeping his death in the public eye.
Several prominent black journalists have been crucial in raising awareness of the killing of the unarmed 17-year-old by a neighborhood watch captain, some experts say. Moreover, influential rappers and actors have used Twitter and other avenues to stoke wider outrage.
The effort shows how the black community is adapting to use new technologies and opportunities to bring their concerns before the nation.
Najee Ali, a Los Angeles-based activist and director of Project Islamic H.O.P.E., says the issue was brought to his attention by the tweets of black celebrities such as Russell Simmons, Spike Lee, and clerics such as the Rev. Al Sharpton. [Editor's note: The original version of this story misidentified the name of Russell Simmons.]
"Black people were not even aware that [Martin] had been shot and killed until Rev. Al Sharpton and other black celebrities started posting it on social media sites such as Twitter and Facebook," he says.
Lee has tweeted: "America The Beautiful,A Country Where A Black Teenager Can Be Shot And Killed Coming From A 7-Eleven Buying A Ice Tea And A Bag Of Skittles."
---