As Midwest storm bears down, forecasters use more urgent voice in tornado warnings
The National Weather Service is testing phrases like 'catastrophic' and 'unsurvivable' to describe looming storm systems in a bid to engage Americans' survival instincts. Saturday's tornado-bearing storm was called 'high-end' and 'life-threatening.'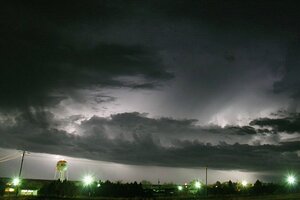 Gene Blevins/Reuters
As a massive storm system crawling into the Midwest sent tornadoes touching down in Norman, Okla., on Friday, the National Weather Service sent out an unusually early and strongly-worded warning, suggesting the system could become a "high-end, life threatening event" through Saturday.
"We're quite sure [Saturday] will be a very busy and dangerous day in terms of large tornadoes in parts of the central and southern plains," National Weather Service spokesperson Chris Vaccaro told the Associated Press. "The ingredients are coming together."
Last year's devastating tornadoes in Alabama and an early, violent start to this year's tornado season has forecasters testing a more active, urgent voice to better communicate storm warnings to Americans.
Other phrases being tested, though not in today's outbreak, are "mass devastation," "catastrophic" and "unsurvivable" – all deviations from the weather service's traditional monotone recitation of warnings and watches.
Whether more alarmism will actually help break through a "cry wolf" immunity that many Americans exhibit toward tornado warnings – even sirens – is an open question. But it was clear from the strong, early warnings about today's storms that the National Weather Service is becoming more proactive in trying to communicate both storm severity and potential impacts.
---