Rare, night tornadoes hit Harrisburg, Branson, and other Midwest towns
Harrisburg, Ill, was hit by a rare, massive night-time tornado with 170 mph winds. At least 12 people were killed by 16 tornadoes in three states. Friday could see a similar storm system, say meteorologists.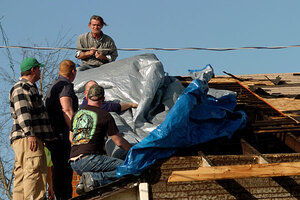 (AP Photo/Stephen Lance Dennee)
Jeff Rann had ample warning that terrible weather was approaching before dawn. A frantic call to his wife from his mother-in-law alerted them to reports that a tornado was barreling down, and Rann heard the deafening wail of storm sirens.
Rann was among those who survived the weather's passing assault Wednesday, his home untouched. Yet just two blocks away in the southern Illinois town of Harrisburg, population 9,000, Rann's parents were not as fortunate.
Caught in the relatively uncommon night-time twister, the Ranns were among six people killed Wednesday when blocks of homes in Harrisburg were flattened by overnight storms that raked the nation's midsection, killing at least 12 people in three states.
IN PICTURES: Extreme weather 2012
In Harrisburg, which has a rich coal-mining history, Mayor Eric Gregg called the tornado strike "heartbreaking." The National Weather Service preliminarily listed the tornado as an EF4, the second-highest rating given to twisters based on damage. Scientists said the tornado was 200 yards wide with winds up to 170 mph.
Adding to the danger, it hit as many slept — a timing research meteorologist Harold Brooks called unusual but "not completely uncommon."
Brooks, with the NOAA National Severe Storms Laboratory in Norman, Okla., said perhaps 10 percent of tornadoes happen between midnight and 6 a.m., a time when the danger level rises because the storms are harder to spot and it's harder to get the word out.
"If you're asleep, you're less likely going to hear anything, any warning message on the danger," Brooks said.
Ryan Jewell, a meteorologist with the Storm Prediction Center, said the next system is forecast to take a similar path as Wednesday's storms and has the potential for even more damage.
---