With NATO summit, Chicago seeks to avoid repeat of 1968 riots
Chicago has ramped up efforts to head off violence at the NATO summit, leading some protesters to say the city has been heavy-handed.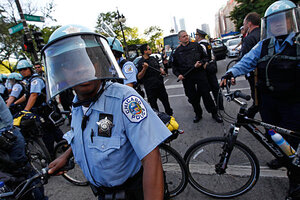 Jim Young/REUTERS
While many cities are beginning their slide into the summer calm this weekend, Chicago is in the heat of the international spotlight.
For now, much of the city has the feeling of a ghost town ahead of the NATO summit here this weekend, with businesses directing their workers to stay home and suburban high schools even rescheduling proms to avoid the security hassle in downtown hotels. But by the time NATO dignitaries arrive Sunday for the two-day meeting, between 10,000 and 50,000 protesters could descend upon downtown.
Both federal and city officials have taken strong moves to head off violence. In the year leading up to the summit, Chicago unveiled restrictions on parking and access to roads, museums, area businesses, and public transit. Recent days have seen security personnel in battle gear stationed outside federal buildings and 700 Illinois State Troopers added to Chicago Police Department rolls.
The measures are testing the relationship between new Chicago Mayor Rahm Emanuel and advocacy organizations at the heart of the protest movement. They say Chicago has made the permitting process too difficult and is changing the rules at the last minute.
Mayor Emanuel has good reason to avoid a showdown with protesters. Since the famous 1968 riots during the Democratic National Convention, Chicago has tried to move away from its brutal reputation – an effort apparent most recently in its measured response to the Occupy movement. And the ambitious Emanuel will not want a black mark on his record, says Dominic Pacyga, an expert in Chicago history at Columbia College in Chicago.
---