Are the L.A. Kings the worst thing to happen to hockey?
The L.A. Kings are on the cusp of hoisting the Stanley Cup, sitting 3-0 ahead of the New Jersey Devils. But their defensive style, reliant on the shot block, drains the life out of hockey, critics say.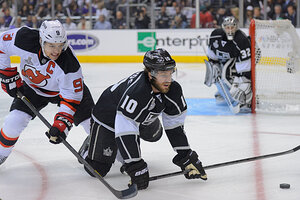 Mark J. Terrill/AP
It seems as if no matter how the NHL tweaks hockey to open up the play so that offensive stars can shine, the game still manages to devolve into random tedium as the Stanley Cup playoffs progress, much as it has in the current finals matchup between the Los Angeles Kings and the New Jersey Devils.
The Kings – an eighth seed in the West that rode an octopus-like goaltender, Jonathan Quick, and near-flawless team defense to the cusp of a Stanley Cup victory (going 15-2 in the playoffs and winning Game 3 against the Devils Monday) – play a style of hockey that has met with a certain derision. The team has come to epitomize a lockdown mentality that takes the air out of the room, and the scoring out of the game.
The Devils can't really argue with the Kings' strategy, which relies on big, high-skill players lining up two or three deep in front of the net to deflect pucks, and on corralling bounces for quick rushes and scoring chances at the other end. The Devils themselves were criticized in the 1990s for use of the neutral zone trap, in which players guarded the boards and clogged up the middle of the ice so that opponents struggled even to get close to the net, where future Hall of Fame goalie Marty Brodeur lurked for clean-up duty.
---