Kings ransom: With Lakers and Clippers out, L.A. grudgingly turns to hockey
After an astounding run through the playoffs, the Los Angeles Kings are in hockey's Stanley Cup finals. When Los Angelenos get over the Lakers' collapse, they might tune in.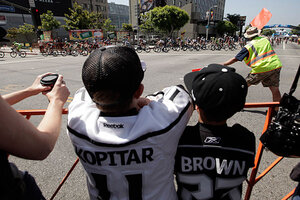 Jae C. Hong/AP
The Los Angeles Kings are in the Stanley Cup finals for the first time since 1993. Is this a big deal in the city boasting 16 NBA Championships? Yes, even if it pales by the comparison to the elation caused by the Lakers.
When Laker excitement is high – during big games, big championship series – cars speed down the boulevards to make their purple-and-gold car flags snap in the wind. They honk to make their point. The Kings? You have to go to a game to witness the real mania – which is deep but not as widespread. But give it some time, sports fans here say.
"There's a lot of anger right now about the Lakers losing – maybe even more than the happiness that the Kings are in the finals," says Vincent Bonsignore, sports columnist for the L.A. Daily News. "You turn on the radio, and they're still talking about how to fix the Lakers and what trades to make."
The NBA's L.A. Clippers also became contenders after adding Chris Paul this year, and so add that barometer reading to the L.A. sports landscape – "steady drizzle" after they fizzled to a four-game sweep at the hands of the San Antonio Spurs.
"This will hit a crescendo, give it some time," says Bonsignore. "We're starting to see some Kings hats and jerseys coming out of the woodworks, it's not like the Lakers, but these fans are extremely passionate. They had an incredible run."
It was made even more incredible because no one saw it coming.
---