Texas highway pileup: time to slow the 'super truckers' down?
Thick Texas fog played into the massive 140-car Thanksgiving pileup in Texas that killed 2 people and injured 80, but a lingering question is whether a lower Texas speed limit could curb highway bravado by motorists and professional drivers alike.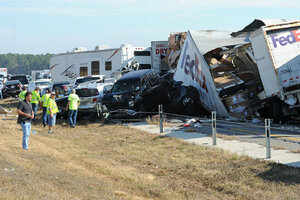 Guiseppe Barranco/The Beaumont Enterprise/AP
While authorities have pegged thick Texas fog as the main culprit in the 140-car Thanksgiving pileup on I-10 just southwest of Beaumont, big rig truckers posting on Internet message boards suggest that civilian and professional drivers maintaining potentially reckless speeds, despite the conditions, may have been another major contributing factor.
Crowded with motorists and tractor trailers, the I-10 phalanx was moving at near 70 miles per hour despite the pea soup fog that rolled in, authorities said. Texas and Utah are the only states that allow truckers to travel at 80 miles an hour, while most states only allow 65-mile-an-hour truck travel. California's truck speed limit is the lowest, at 55. Compounding speed with low visibility, the margin of error shrank to dangerous levels, truckers wrote.
"It's a wonder there wasn't one like that between Detroit and Grand Rapids on 96 in the wee hours on Tuesday into Wednesday as many super truckers were flying by me in the pea soup non vis [non visibility] fog up there," a rookie truck driver wrote on The Truckers Report website. "[Heck] of a choice though … run with them (or fast as I could anyway lol) and risk a wreck or slow to a safe speed and worry about getting rammed from behind."
The I-10 Texas pile up was "even worse than last week on I-35, 4 rigs, 9 cars, 1 DOA," another trucker wrote on the board. "I saw that one as the lifeflight was coming in. There have been several in a 10 mile part of I-35 under construction, all with fatalities. Guys PLEASE be careful."
The Fatality Analysis Reporting System (FARS) recently reported that 25 percent of speeding-related large-truck fatalities occurred during adverse weather conditions, according to the Federal Motor Carrier Safety Administration.
---