California shooting: Teacher talks down shooter, allowing students to escape
One student is critically wounded, two others injured, in a rural California high school where, just hours before, school officials had been reviewing lockdown procedures for such a case.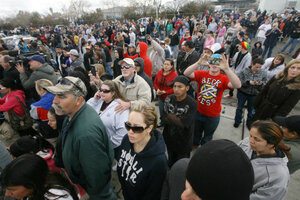 Alex Horvath/The Bakersfield Californian/AP
A teacher at Taft Union High School in Taft, Calif., is being hailed as a hero by local officials for "talking down" the student who brought a 12-gauge shotgun to school Thursday morning, allegedly with at least two student targets in mind.
The incident – in which one student was critically injured and a student and teacher received minor injuries – is the latest to draw attention to school safety, less than a month after a gunman killed 20 elementary-school students and six educators, before killing himself in Newtown, Conn.
Halfway through first period, the 16-year-old suspect walked into the school's science building, went to a second-floor classroom, and fired at a fellow 16-year-old, who was later reported to be in stable condition, Kern County Sheriff Donny Youngblood said at a press conference.
The shooter tried unsuccessfully to shoot another student, whom he named, and had perhaps 20 rounds of ammunition in his pockets, Sheriff Youngblood said. The teacher and a campus supervisor who showed up at the classroom during the incident engaged in a dialogue with the shooter – giving other students a chance to leave the classroom and ultimately leading the gunman to put his weapon down.
He was then taken into custody by Taft police, who responded within 60 seconds to 911 calls. A neighbor had reported seeing someone walk into the school with a gun.
The teacher and supervisor "knew not to let him leave that classroom with that shotgun," Youngblood said. "This is a tragedy, but not as bad as we think it might have been." He estimated about 28 students were in the classroom at the time of the shooting.
For parents in the small town, where about 900 students attend the high school, it was a harrowing morning, with echoes of Sandy Hook still in their minds. Some parents received calls from their children before official word came out from the school. One dad told a reporter from local ABC affiliate KERO-TV that his daughter called her mother and said she was in a closet and there was a shooter in the building.
---