NRA coming to White House: Will there be fireworks?
On Thursday, the nation's biggest gun-rights organization will be represented at a meeting on gun violence with Vice President Joe Biden. The NRA's presence makes both sides look open-minded.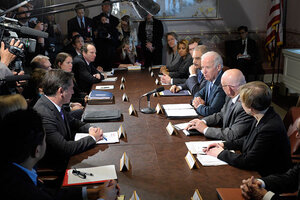 Susan Walsh/AP
Vice President Joe Biden kicked off three days of meetings on gun violence Wednesday as part of his task force aimed at presenting proposals to President Obama by the end of the month.
But even before the first session could begin – a closed-door meeting with representatives of gun-control groups and victims of gun violence – Mr. Biden demonstrated why the issue is so fraught. He suggested unilateral action by the White House, stoking long-held fears that Mr. Obama plans to do whatever he can to limit access to firearms and ammunition. Biden's remark also caused a dip in the stock price of gunmakers and retailers, according to CNN.
"The president is going to act," Biden said to reporters before the meeting. "There are executive orders, there's executive action that can be taken. We haven't decided what that is yet."
The Drudge Report website responded with this display: "White House threatens 'executive order' on guns." Pictured above were two notorious dictators from the 20th century, Adolph Hitler and Josef Stalin.
The Biden-led task force is the president's response to the Dec. 14 massacre in Newtown, Conn., which left 20 first-graders and six school staff dead. The lone gunman, 20-year-old Adam Lanza, had used weapons owned by his mother, whom he also murdered.
---