Marathons as 'soft targets' for terrorists? Why panic isn't warranted.
Boston Marathon bombings are prompting officials of other marathons to review security plans. That's a good thing, say experts, but concerns that terrorists might single out marathons are unfounded.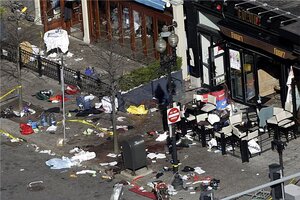 Elise Amendola / AP
A marathon is 26 miles, 385 yards – a lot of territory to secure to prevent anything like the bomb attack that killed three people and injured at least 150 more, almost all spectators, near the finish line of Monday's Boston Marathon.
In the wake of Monday's tragedy, though, marathon organizers in cities around the US are taking a closer look at their security arrangements, mindful that the very nature of the course – a completely unenclosed path through diverse neighborhoods, over bridges, through wooded areas – poses challenges perhaps unrivaled by any other sporting event. Some even worry that marathons will become favorite targets for would-be attackers.
The upshot? "It would be impossible to have security and police on every part of the race. There is no way to screen people who are watching it," says Jeremy Jordan, an associate professor and director of the Sport Industry Research Center at Temple University in Philadelphia. "It is very uncontrolled."
The number of terror incidents at marathons is relatively few – seven around the world since 1994 (not including Monday's attack in Boston), according to the University of Maryland's Terrorism Data Base. Total fatalities were 15 – all at one event in Sri Lanka – plus 90 people injured in total at the seven races.
Terrorists are "opportunists" who look for ways to cause a lot of casualties and bring attention to their attacks, says terrorism expert Frank Cillufo, director of the Homeland Security Policy Institute at George Washington University. He does not believe they are now singling out marathons as targets.
---