Why backroom deals are out in 'sequester' talks
Backroom deals resolved the debt-ceiling crisis and the 'fiscal cliff' – why not the sequester? Because the House Republican rank and file are not allowing it.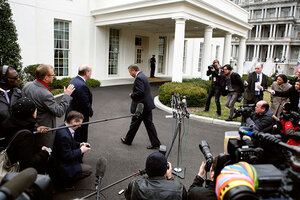 Kevin Lamarque/Reuters
President Obama's meeting with congressional leaders on Friday offered no inkling of compromise between lawmakers and Mr. Obama on the automatic spending reductions known as the "sequester" beginning the same day.
But it illuminated a lot about how, this time, negotiations are likely to be different. Remember the private conversations between the president and Republican leaders that eventually resolved the 2011 debt-ceiling crisis and last year's "fiscal cliff"? There will likely be less of those and more bills moving through Congress.
Backroom deals are out; "regular order" is in.
"Over the coming weeks, we'll have the opportunity to ensure funding is at the level we promised while working on solutions for making spending reductions more intelligently than the president's across-the-board cuts," said Senate minority leader Mitch McConnell (R) of Kentucky in a statement. "But I want to make clear that any solutions will be done through the regular order, with input from both sides of the aisle in public debate. I will not be part of any backroom deal and I will absolutely not agree to increase taxes."
---