'Fiscal cliff': Is John Boehner in a lose-lose situation?
(Read article summary)
Speaker John Boehner and fellow Republicans are being asked to cave on tax rates in the fiscal cliff negotiations. In return, they could be the 'bad guys' on entitlement reform – something even their own voters may not support.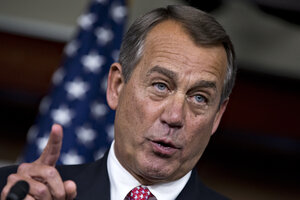 J. Scott Applewhite/AP
What do Republicans want?
As the two parties continue to complain about a lack of progress in the "fiscal cliff" negotiations, the GOP's maneuvering has been complicated in part by a lack of clarity over what kind of deal its own base would really support.
In theory, of course, Republicans want big spending cuts. Speaker John Boehner is resisting President Obama's call for higher tax rates unless he can get assurances of meaningful spending reductions – which means, first and foremost, changes to the entitlement programs that most independent analysts agree are posing the biggest threat to America's long-term fiscal health.
But cutting entitlements is certain to be politically painful, and Republican lawmakers understandably appear reluctant to be seen as "owning" those changes. Particularly when recent polling suggests that even many Republican voters wouldn't support them.
As Reason's Peter Suderman pointed out this week, a new poll by McClatchy/Marist found that nearly every proposed entitlement reform is strongly opposed by a majority of voters – including a majority of Republicans.
Cutting spending for Medicare? Seventy-four percent of voters said no way, including 68 percent of Republicans. How about raising the eligibility age for Medicare? Nope, 59 percent of voters – and 56 percent of Republicans – don't like that idea, either.
Even the GOP's preferred means of raising taxes – by eliminating deductions rather than raising rates – appears at least somewhat problematic with its base. When asked if they'd support eliminating the home-mortgage deduction, 66 percent of Republicans said no.
---