More conservatives plead with GOP to abandon debt-ceiling ultimatum
(Read article summary)
Congressional Republicans are still threatening to refuse to raise the debt ceiling – but the stance is causing growing anxiety for many within the GOP.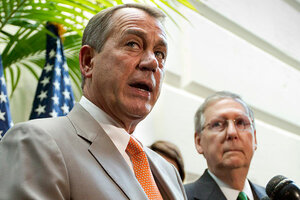 J. Scott Applewhite/AP/File
The threat by congressional Republicans not to raise the debt ceiling – possibly allowing the United States to go into default – doesn't seem to be scaring President Obama, at least based on his ongoing refusal to negotiate on the matter.
But it is clearly scaring many members of their own party.
With the US likely to hit the limit on its borrowing authority as early as mid-February, more and more Republicans are publicly beseeching their party to drop the game of chicken – calling it both bad policy and bad politics – and focus instead on other, less-risky opportunities to push for spending cuts.
As the GOP begins a three-day retreat Wednesday to plot out legislative strategy, The Wall Street Journal reports that party leaders have grown "anxious" about the debt-ceiling standoff, writing that some members are worried "about the economic impact of the government's possibly missing some payments."
---