In stimulus bill, US funds for schools double
About a quarter of the new money is aimed at low-income pupils, to help with the achievement gap.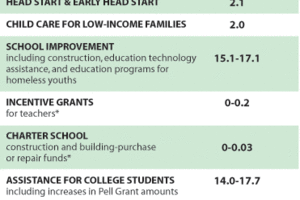 scott wallace - staff
The economic stimulus bills before Congress contain a $140 billion boost for education – and most of it would be used to more than double federal spending on America's public schools over the next two years.
The legislation is part short-term stimulus, intended to create jobs via school renovation projects and to prevent massive teacher layoffs in the face of state and local budget deficits. But it is also part social policy, channeling federal dollars to programs designed to improve the academic achievement of low-income and other struggling pupils. Indeed, funding for the major program serving students from poor families would get an extra $13 billion through 2010, an amount nearly as high as the current annual budget.
President Obama has indicated he sees such spending as an investment in students that will pay an economic benefit in the long term. But whether the infusion of cash will narrow stubborn achievement gaps – a top goal of US education law – is a matter of opinion.
At the very least, supporters argue, the stimulus dollars will prevent a backward slide.
"Poor and minority kids get hit first and hardest in state budget cuts," says Amy Wilkins, vice president for government affairs at The Education Trust, a Washington nonprofit. "This federal money could help a lot and could allow schools to continue the momentum they are just now beginning to build up on gap-closing."
Skeptics argue that the US government should not pour so much money into public schools but that, if it does, it should attach some strings to ensure that states and localities change their education systems. They should be forced, in particular, to wean themselves from ineffective practices and unsustainable labor contracts, critics say.
---