Summer reading gets plug from US officials to keep kids sharp
The 'Let's Read. Let's Move' campaign is designed to combat the learning loss that can occur during the summer. Two cabinet secretaries touted summer reading at an event in Washington Wednesday.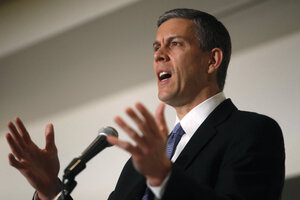 Seth Wenig/AP
Secretary of Transportation Ray LaHood told a very important audience Wednesday about a very important train.
With 85 children gathered round, he brought to life "The Little Engine That Could." Secretary of Education Arne Duncan joined with him in asking the excited K through 5th-graders questions about the story – and answering their questions about everything from trains to the Obamas.
The event was the second of six weekly gatherings at the Department of Education headquarters in Washington this summer as part of its "Let's Read. Let's Move" campaign. It's designed to combat the learning loss that can occur over the summer, as well as weight gain, and it's in conjunction with first lady Michelle Obama's work against obesity.
"We encourage all youngsters to take on this challenge and read at least five books over the summer months to keep their skills sharp," Secretary Duncan said in a press statement.
Such high-level attention to summer reading is welcomed by educators concerned about the way summer tends to sap learning gains. Two-thirds of the reading achievement gap between low-income 9th-graders and their higher-income peers can be attributed to different levels of reading in the summers, according to research cited by the National Summer Learning Association in Baltimore.
---