Schools facing rise in homeless students
Schools serving homeless children are seeing an increase in enrollment, straining their ability to serve the most vulnerable students.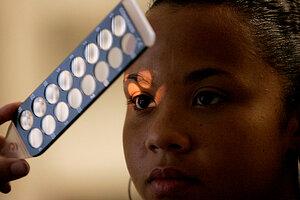 Laura Embry/The San Diego Union-Tribune/Zuma Press/Newscom/File
When Sarita Fuentes thinks of homelessness, she doesn't conjure the stereotypical image of a disheveled older man pushing a shopping cart through an urban neighborhood—she thinks of her students.
"What I see are these babies—elementary school children and their siblings," said Ms. Fuentes, the co-principal and CEO of Monarch School, a San Diego-based, public K-12 institution that exclusively serves homeless students.
Begun by the San Diego County Office of Education as a drop-in center for homeless high school students, the 170-student Monarch School is now a public-private partnership between the San Diego Board of Education and the nonprofit Monarch School Project. It's one of a small number of schools across the country that serve students affected by unstable housing conditions. These schools, along with other schools nationwide, are seeing a growing number of students who are homeless.
Experts say the economic recession has exacerbated youth homelessness, and schools serving this vulnerable population are now being challenged to keep up with the students and offer the unique services to which they are entitled under federal law. According to a 2009 report [PDF] released by the National Center on Family Homelessness, an average of one in 50 children in the United States has experienced homelessness, which is defined as not having a stable, long-term place to stay. This ranges from children temporarily living with extended family members to living in homeless shelters or inside cars.
---