Who's looking to hire? Top 10 hard-to-fill jobs hold surprising lessons.
A recent study suggests that most of the hardest-to-fill jobs in the US do not require college degrees. It points to the need for greater vocational training to cut unemployment.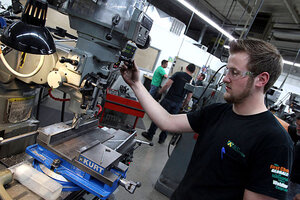 Aaron Josefczyk/REUTERS/File
Did you hear about the job shortage? Probably not, amid all the talk about the chronic 8-plus percent unemployment rate and debate over which presidential candidate would be the better job creator. But there are a number of industries looking for workers, and according to a recent survey, they're not all in fields that can be filled only with college graduates and foreign computer whizzes.
They are sales reps, accountants, drivers, machinists, and people in skilled trades like plumbing. In fact, seven of the top 10 hardest jobs to fill in the US don't require a college degree, according to ManpowerGroup's, 2012 Talent Shortage Survey.
So can the US grow its way back to prosperity through vocational schools and on-the-job training? It would be a good start, say economists.
Politicians and education officials often emphasize the importance of a university education, and for good reason. A university degree increases a worker's earning power over a lifetime.
But particularly when the economic picture is dim, what an employee can get here and now becomes a more urgent concern, and the Talent Shortage Survey suggests that the economy needs people who can fix things with their hands as much as it needs high-end talent.
"The benefit of vocational education is in helping people reinvent and reinvest themselves," says Nicholas Sly, an economist at the University of Oregon.
In its seventh annual talent-shortage survey, ManpowerGroup found that 49 percent of 1,300 US companies surveyed are having difficulty filling positions, down from 52 percent in 2011. That number is the fifth-highest among the 41 nations surveyed. The worldwide figure is 34 percent.
---