Republicans unveil Pledge to America, but where was Paul Ryan?
Rep. Paul Ryan has emerged as the Republicans' rising star on fiscal issues. His absence from the Pledge to America unveiling added to a sense of disappointment among some conservatives.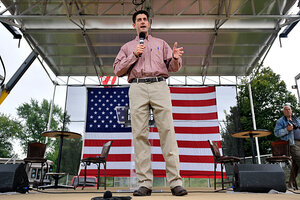 Scott Anderson/The Journal Times/AP
Why wasn't Rep. Paul Ryan of Wisconsin, the top Republican on the House Banking Committee and a founder of the GOP's "young guns" program, present at the much-anticipated rollout Thursday of the House Republicans' campaign platform, the "Pledge to America"?
It may be nothing. Congressman Ryan's spokesman, Kevin Seifert, told the Monitor that "it was just a matter of scheduling. He had some prior commitments." He added that Ryan was involved in the writing of the preamble and had also weighed in on the document as a whole.
But reaction in the conservative blogosphere has been less than enthusiastic – one columnist called it a "pledge to do nothing" – and Ryan's absence raised questions as to whether one of the GOP's rising stars is truly happy about the most important GOP document of the campaign season.
Ryan is the go-to guy among Republicans on fiscal policy, and given the pledge's central focus on reining in government spending, preserving the Bush tax cuts, and repealing health-care reform, it seemed logical that he would be there. Indeed, he was present on morning news shows Thursday, talking up the pledge's features – but also lowering expectations about what can be accomplished if the Republicans do retake control of Congress, given that the Democratic President Obama will still be in office come January.
---