Boo! Halloween for Democrats comes early with spooky poll numbers
It's scary times for Democrats. Some 100 House seats are now in play – almost all of them held by Democratic incumbents. And one-quarter of Obama's 2008 supporters are defecting to the GOP.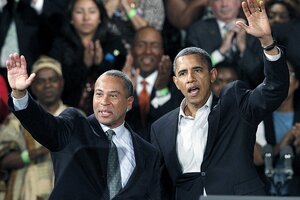 Michael Dwyer/AP
With Halloween approaching, it's not goblins and witches and ghosts that Democrats have to fear. It's mere numbers – poll numbers. And for majority Democrats in Congress and President Obama, those numbers are very spooky indeed.
National Public Radio's "Battleground Survey" out Friday finds that "Republicans have a significant edge in November in competitive US congressional districts." The number of House districts considered to be battlegrounds has increased from about 70 in June to nearly 100 in October – the vast majority held by Democrats.
Similarly, the Rothenberg Political Report puts the number of House seats in play at 100, 91 held by Democrats and just nine by Republicans.
To the extent that midterm congressional races are seen as a test of the Obama administration, the news there for Democrats is mixed – at best.
President Obama's job approval ratings have averaged 26 points higher than Congress's approval ratings, according to Gallup. That's better than 4 out of the last 5 presidents. (George H.W. Bush is the exception.)
But an Associated Press-Knowledge Networks poll finds that one-quarter of those who voted for Obama in 2008 "are defecting to the GOP or considering voting against the party in power this fall."
---