Obama utters words 'tax and spend liberal.' Republicans drool.
(Read article summary)
In a candid magazine interview, President Obama acknowledges that he made it too easy for Republicans to cast him as a 'tax and spend liberal.' The comments could backfire against Democrats.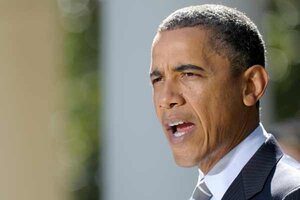 Susan Walsh/AP
Around elections, presidential candor – even in limited amounts – can be politically awkward.
So at a meeting Wednesday morning with reporters, Press Secretary Robert Gibbs was at pains to tamp down reaction to comments President Obama made for an interview with the New York Times Magazine that will be distributed this Sunday.
In the cover story, by reporter Peter Baker, Mr. Obama admits to learning "tactical lessons" in his first two years in office. He let himself look too much like "the same old tax and spend liberal Democrat," the president said. When it comes to public works programs, the President said, "there's no such thing as shovel ready projects." And he raised the possibility he should not have included tax breaks as part of the stimulus bill and instead "let the Republicans insist on the tax cuts," thus casting the aura of bipartisan compromise on the legislation. And the story said the president is spending time with key aides mapping a changed course for the next two years.
"There is no post mortem" underway, Mr. Gibbs told reporters. As to the magazine's report that White House insiders think the administration has a communications problem, Gibbs quipped he was "sort of used to it." In the magazine story, Gibbs is quoted as saying "I haven't been to a policy-problem meeting in 20 months."
---
Follow Stories Like This
Get the Monitor stories you care about delivered to your inbox.