Meg Whitman lags behind Jerry Brown in Calif. governor race
Meg Whitman trails Jerry Brown in a new poll of likely California voters. The episode involving her illegal Mexican housekeeper is hurting her, especially among Latino voters.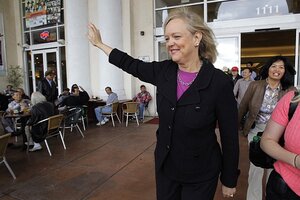 Paul Sakuma/AP
Is it all over for Meg Whitman?
Lots can happen in a week, but the GOP candidate for governor of California is trailing Democrat Jerry Brown by a substantial – and apparently growing – margin. And it looks like the flap over her illegal housekeeper is one major reason.
According to a USC College/Los Angeles Times Poll released Sunday, Mr. Brown now leads Ms. Whitman by 13 points among likely voters (52-39 percent). In last month's poll, Brown was ahead by just five points – not much more than the margin of error.
Why the slippage, especially since the billionaire former eBay CEO has been able to outspend her opponent?
One big reason is found among Latinos in California, who make up 19 percent of all registered voters.
Democrats usually enjoy an advantage here, but that has become increasingly clear in this year's governor's race. Between September and October, Brown's lead among this crucial demographic jumped from 19 percent to 36 percent.
Impact of Whitman's illegal housekeeper
The most recent USC College/Los Angeles Times Poll has 52 percent of all likely voters saying Whitman did a poor job handling revelations about her housekeeper Nicky Diaz Santillan. For many days last month, Whitman faced questions about when she and her husband might have known that the Mexican housekeeper they hired for years was in the United States illegally.
---