The real up-and-coming force driving Election 2010? Seniors.
Seniors have always been among America's most committed voters. But starting in Election 2010, and continuing for two decades, their political power is expected to reach new heights.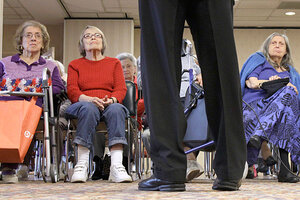 Amy Sancetta/AP
At a recent, community-wide congressional debate in the high school cafeteria here, journalists were scouring the crowd looking for younger voters, the demographic that burst onto the political scene in 2008 and helped put Barack Obama in the White House.
They couldn't find any.
They did, however, find Don Potter, the founder and editor of NewSeniors.com – a website written by and for those just turning 65 to foster debate and discussion on issues seniors care about.
IN PICTURES: Election Photos of the Week
Mr. Potter says most seniors he knows are energized by this election because they are "scared" about issues such as health care, taxes, social security, and education. He represents a voter demographic that is growing, unifying, and – according to several analysts – likely to wield more power in this midterm election than at any time in decades.
Seniors and baby boomers are more engaged in the election and more excited about voting than any preelection polling has found since 1994, according to the Pew Research Center. While it was considered to be youth that ushered in the Obama revolution, it is the older generation that is wielding more power now.
'Freight train coming'
---