Leadership shuffle in Congress? The drama is all on the winning side.
In both chambers of Congress, the postelection intrigue about leadership posts is mostly on the Republican side of the aisle, as the GOP establishment confronts the tea party insurgency.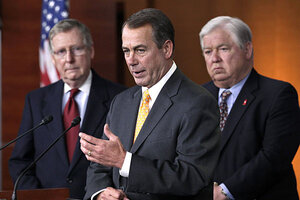 J. Scott Applewhite/AP
The typical pattern after a big election loss is for the party leader to fall on his or her sword. Republican Newt Gingrich stepped down as speaker and resigned his seat after the unexpected loss of five House seats in the 1998 midterm elections. But this year, so far, the strongest postelection ideological churning is on the side of the Republicans, who gained more than 60 seats in the House and at least 6 in the Senate.
"Both parties have at least as much of a challenge internally as they do bridging the huge gap between them," says Norman Ornstein, resident scholar at the American Enterprise Institute. "But the bigger challenge is for Republican leaders who represent an establishment against this insurgent movement that they encouraged but now may come back to bite them," he adds.
VIDEO: Voices of the Tea Party
Senate GOP leader Mitch McConnell of Kentucky faces no leadership challenge, formally. Sen. Jim DeMint (R) of South Carolina, an early backer of tea party candidates, says he has no plans to challenge Mr. McConnell as Republican leader. Nor does he need to, as he has emerged from the 2010 cycle as the unofficial head of a newly empowered conservative wing of the party.
---
Follow Stories Like This
Get the Monitor stories you care about delivered to your inbox.