Chicago runoff? Despite big lead, Rahm Emanuel may come up just short.
The latest poll shows Rahm Emanuel with 49 percent support in the race for Chicago mayor, just shy of the majority he needs. In second place with 19 percent, Gery Chico is talking runoff.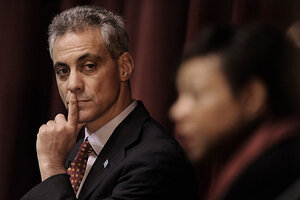 Paul Beaty/AP
Despite holding a wide lead over his nearest rival, Rahm Emanuel may face a runoff in his bid to become the next mayor of Chicago, polls show.
Since declaring his candidacy in October, Mr. Emanuel has enjoyed frontrunner status in the race to replace Mayor Richard M. Daley, who is stepping down after 22 years in office.
A Chicago Tribune/WGN poll released Friday shows Emanuel's lead at 49 percent, his highest so far and more than twice the 19 percent favoring Gery Chico, the former Chicago Board of Education president who is now Emanuel's closest rival in the race.
But even with such a considerable lead in the polls, Emanuel could be forced into a runoff with Mr. Chico if he is unable to achieve the majority of the vote on Election Day, Feb. 22.
The runoff, scheduled for April 5, would largely benefit Chico, who would be given six more weeks to blast Emanuel and to court supporters of the other candidates in the race, including former US Sen. Carol Moseley Braun and Chicago City Clerk Miguel del Valle.
On Friday, Chico appeared confident his campaign will continue into April.
---