Does Rick Perry really want to be president?
Texas Gov. Rick Perry's debate performance, and other clues, indicate to DCDecoder that Rick Perry may not be 'in it to win it.'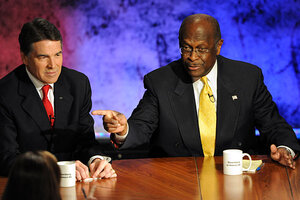 (AP Photo/Toni Sandys
Watching Rick Perry's debate performance Tuesday night, Decoder (along with many observers in the press) was struck by how itching-to-get-out-of-there uncomfortable he looked. It was like watching someone's half-hearted attempt to engage in polite conversation at a dinner party he was only attending as a favor to his wife.
Which has led us today to this fundamental question: Does Rick Perry really want to be president? Or, more specifically, might the Texas governor regret his decision to jump into the race?
Tellingly, when New Jersey Gov. Chris Christie offered up his reasons for passing on a White House run, he said he'd tried to imagine himself in a hotel room in Des Moines "and it's 5:30 in the morning and it's 15 below, and it's time for me to get up and go shake hands at the meatpacking plant."
His point? To subject yourself to the true grind of a presidential campaign - with the loss of privacy, the discipline of having to be always on message, the tedium of giving the same speech over and over, and the out-and-out hard work required behind the scenes - you have to really, really want it.
And almost by definition, a candidate who jumps in only after some arm twisting by supporters - as Perry did and Christie did not - probably doesn't want it that bad.
---