Newt Gingrich targets 'sancturary' cities for illegal immigrants
In a campaign speech in South Carolina, a key primary state, Newt Gingrich spoke against 'sanctuary' cities for illegal immigrants. But Newt Gingrich also called for a guest worker program.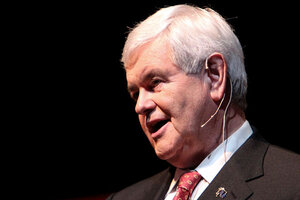 (AP Photo/Alice Keeney)
Republican presidential hopeful Newt Gingrich told a South Carolina town hall on Monday that as president he would block federal funds to any city that "declared itself a sanctuary" for illegal immigrants.
Gingrich, fresh from a key endorsement from an influential New Hampshire newspaper, is on a three-day swing through South Carolina, an early primary state that his campaign has dubbed his "southern firewall."
"No American president has the right to side with foreigners," Gingrich told a crowd of hundreds at the College of Charleston, after reciting a list of 16 countries that he said had filed friend of the court briefs in a Justice Department lawsuit against South Carolina's new immigration law.
The law, which goes into effect on Jan. 1 barring an injunction from a federal court, requires police officers to check the immigration status of anyone they stop or detain for another reason and makes it a felony to knowingly transport or harbor undocumented immigrants.
"In three years and eight months, we defeated fascist Italy, Nazi Germany and imperial Japan. Today, we can't build a (border) fence," Gingrich said. "I would propose cutting off all federal funds to any city that declares itself a sanctuary city."
---