Did Newt Gingrich just flip-flop on immigration?
(Read article summary)
Newt Gingrich has said that law-abiding, tax-paying illegal immigrant families should not be forcefully kicked out of the US. Now, he's emphasizing the get-tough part of his stance on immigration.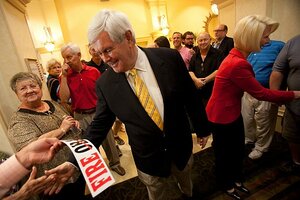 Erik Kellar/AP
Did Newt Gingrich just flip-flop on immigration?
During Tuesday night's GOP presidential debate, Gingrich got all compassionate-conservative on the country's 11 million illegal immigrants – more compassionate than conservative, in fact, or so it seemed.
No talk of electrified fences or moats with alligators, as some of his Republican presidential rivals had offered. No promise to "shut down" the US-Mexico border the first day of his presidency (Rick Perry), or scary warnings that "terrorists have come into this country by way of Mexico" (Herman Cain).
IN PICTURES: Newt, now and then
Yes, Gingrich said, if somebody has recently come into the United States illegally and "has no ties to this country" then "they ought to go home." (Which sort of sounded like someone having a pang of conscience about being an outlaw immigrant and voluntarily returning to their village south of the border.)
But then Gingrich added something big enough to drive a truck full of illegals through a hole in the fence at San Diego – or so his critics quickly said.
---
Follow Stories Like This
Get the Monitor stories you care about delivered to your inbox.