Pitfalls for Meg Whitman and Jerry Brown to avoid in first debate
Jerry Brown has 40 political debates under his belt, but Tuesday night is Meg Whitman's first. Brown must work not to come off 'prickly' in the first California governor's race debate, analysts say, while Whitman must establish herself.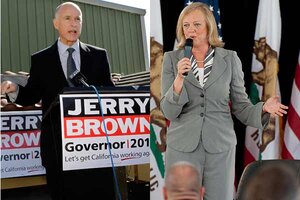 Justin Kase Conder/AP, Paul Sakuma/AP
The seasoned veteran versus. the political novice. Hundreds of thousands of dollars versus hundreds of millions. Man versus woman.
With just five weeks to go until Election Day, Tuesday night's debate faceoff between Attorney General Jerry Brown, and former eBay CEO Meg Whitman is packed full of enough opposites that most analysts are licking their lips with the prospect that one will finally budge the needle of their campaign deadlock. A Field Poll last week showed 41 percent in favor of each, and a USC/Los Angeles Times Poll over the weekend put Mr. Brown ahead 49 to 44 percent, very close to the poll's margin of error.
In a campaign marked by months of sniping in ad campaigns, both candidates are being uncharacteristically polite in assessing the opposition – some say as a way of lowering expectations for post-debate spin. With so little time left until the vote, neither can afford a sound-bite-size gaffe that can be played on local newscasts or go viral on YouTube, analysts say.
"Since we don't know how many will be watching, the real impact of this will be in media analysis after the debate," says Sherry Jeffe, a political scientist at the University of Southern California. "Both will likely try very hard to stick to their message and end the debate standing with no embarrassments."
---