Charles Djou: How did a Republican win in Obama's Hawaii hometown?
Republican Charles Djou won the special election in Hawaii's First Congressional District – the Honolulu district where President Obama grew up. Djou is only the third Republican Hawaii has elected to Congress since statehood.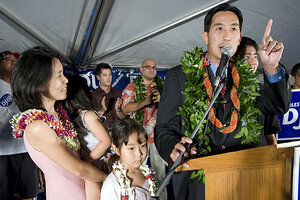 Eugene Tanner/AP
The victory of Republican Charles Djou in a special election in Hawaii's First Congressional District – the heavily Democratic district where President Obama grew up – is a welcome political reversal for the GOP.
In 2008, Mr. Obama took the district with 70 percent of the vote, and no Hawaiian congressional district had returned a Republican for 20 years.
Moreover, the victory stopped a surprising winning streak for Democrats, who had won the past seven consecutive special elections for Congress, including three prominent races – two in upstate New York and one in Pennsylvania – in areas that tilt conservative.
Taking his cues from another Republican who won in firmly Democratic territory – Sen. Scott Brown of Massachusetts – Djou saw the election as a repudiation of one-party rule.
"The congressional seat is not owned by one political party. This congressional seat is owned by the people," he said.
Djou, a member of the Honolulu City Council, will be only the third Republican to represent Hawaii in Washington since Hawaii became a state in 1959.
But the Republicans will likely be careful not to tout the victory too loudly. Mr. Djou won with less than 40 percent of the vote, with two Democratic challengers taking 58 percent.
The rules change for the November election, and only one Democrat will be able to challenge Djou for the seat. Without two Democrats to split the vote between them, Djou knows that the math is against him.
---