David Dreier to leave Congress: Is California losing its clout?
Some worry that David Dreier's retirement means reduced clout for California on Capitol Hill. But others say an anti-pork atmosphere in Washington means their concerns are overblown.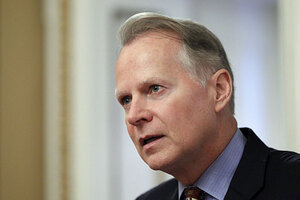 J. Scott Applewhite/AP
Republican David Dreier, chairman of the House Rules Committee, added his name Tuesday to the list of veteran California lawmakers who are retiring from Congress, causing some in California to fret about the state's lost clout on Capitol Hill.
But others, pointing to changes in Congress and a spirited anti-pork atmosphere pervading Washington, say those concerns are overblown.
Congressman Dreier, the most powerful of the six California representatives who are retiring, cited the historically low public approval rating for Congress as among the reasons he would not seek reelection.
Another reason that Dreier and others have decided not to run is that, as a result of California's recent redistricting, they were facing new or different constituencies or new opponents. His home was placed in a majority Hispanic district where President Obama defeated John McCain in the last presidential race.
"Seniority is almost everything on Capitol Hill, and because of redistricting and retirements, California could lose well over 200 years of incumbents' experience in the House," says Sherry Bebitch Jeffe, a political scientist at the School of Policy, Planning, and Development at the University of Southern California, in an e-mail.
---