Rep. Charles Rangel defies demographics, censure to win tough primary
Rep. Charles Rangel, an icon in Harlem, called on more than 40 years of a storied history – including bringing home the bacon as former chairman of a powerful House committee – to win a Democratic primary that all but assures victory in November.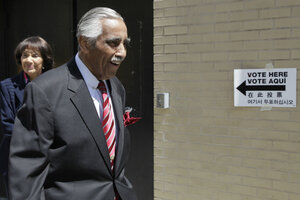 Mark Lennihan/AP
Rep. Charles Rangel's victory in the Democratic primary for New York's 13th Congressional District shows that – despite demographic changes in his district, ethics woes, and a censure vote by his House colleagues – he's still popular enough to win the toughest fight of his 42-year career in Congress.
Tuesday's primary victory essentially counts as the election in one of the most Democratic-leaning districts in the nation.
"MY district," is how Mr. Rangel refers to it.
And so it continues to be, for at least a 22nd term. The official statement that he released after his victory sounded a bit humbler.
"Words cannot describe my overwhelming gratitude to the voters of the 13th Congressional District of our great State for believing in me. I welcome this special privilege to serve the people of the Bronx and those in Upper Manhattan whom I have had the honor to represent in Congress in the past. I will not let them down."
According to Douglas Muzzio, a professor at Baruch College and a political commentator, Rangel's storied history was just too much for his opponents to overcome.
"The bottom line is, Charlie's an icon. He has been a fixture of New York politics, national politics, and certainly the politics of that district," says Mr. Muzzio. "He was able to capitalize on more than 40 years of history and of bringing home the bacon, and he had a lot of endorsements."
---