Mitt Romney tackles 'ObamaCare,' but what about 'RomneyCare'?
As Mitt Romney offers a five-point replacement of Obama's health-care reform, he dodges its similarities to his own plan for Massachusetts, instituted during his time as governor.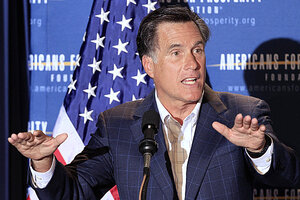 Jim Cole / AP
Mitt Romney will go after President Obama's health-care reform Thursday, in the first major speech of his presumed presidential campaign.
But all signs point to gentle treatment of the health-care reform he instituted in his own state of Massachusetts, when he was governor from 2003 to 2007. Mr. Obama often praises Mr. Romney's health reform as the model for the national version, including a mandate that requires individuals to purchase insurance.
Perhaps more than any other aspect of his candidacy, Romney's health reform is a major liability among many Republican voters. Romney polls at or near the top of the still-forming GOP field, but only in the high teens.
In an address at the University of Michigan in Ann Arbor, Romney is expected to call for repeal of "ObamaCare" and then lay out a five-point plan for a replacement. On Wednesday, he previewed his proposal in an op-ed at USAToday.com.
"If I am elected president, I will issue on my first day in office an executive order paving the way for waivers from ObamaCare for all 50 states," Romney wrote. "Subsequently, I will call on Congress to fully repeal ObamaCare."
---