GOP debate: Did Rick Perry survive the attacks of his fellow Republicans?
At Thursday night's Republican presidential candidates debate, the focus was on front-runner Texas Gov. Rick Perry. He was the main target of criticism, especially from Mitt Romney.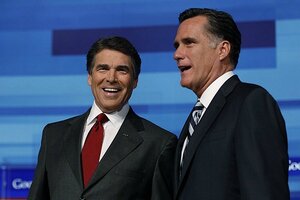 Scott Audette/Reuters
The Republican presidential debate in Orlando, Fla., Thursday night wasn't all about Rick Perry. But at this point in the long, grueling pre-primary campaign, all eyes were on the Texas governor.
Particularly the eyes of Mitt Romney – dislodged as the front-runner by Perry – who aggressively came after the Texan, scoring debating points on the economy, education, immigration, and other issues.
Perry was not backing down, however, standing firm when not just Romney but the other candidates as well hammered him on his immigration record in Texas. If you don't understand the need to provide in-state college tuition to the children of illegal immigrants, he said, "Then you have no heart" – a comment that drew a mixture of applause and booing.
Primary voters choose their champion based not just on policy points but on style and comfort level with the contenders. On Thursday night, at least, Romney seemed more self-assured, confident, and articulate. Perry sometimes appeared to have a hard time looking at Romney standing next to him, hesitating now and then in his answers.
In his response to a question about terrorists acquiring Pakistan's nuclear weapons, "he did not seem in command on a topic on which he needs to show some heft," blogged Maggie Haberman, a senior political writer for Politico.
---