Why Chris Christie isn't running for president
Despite polls showing he would have been an instant contender, Chris Christie said now is not the time to seek the GOP nomination, saying his passion is for his job as New Jersey governor.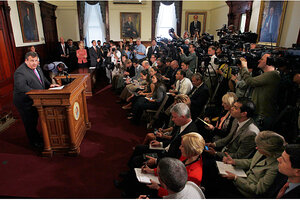 Mel Evans/AP
Chris Christie's announcement Tuesday that he is not running for president should have come as no surprise.
The New Jersey governor has been saying as much for months. He argued he wasn't ready and his heart wasn't in it. And as time marched on, many analysts said, it was just too late to mount a credible campaign. But when push came to shove, and ardent supporters and donors got Governor Christie to step back and reconsider, the final decision centered on his home state.
"Now is not my time," Christie said at a news conference in the New Jersey capital, Trenton. "I have a commitment to New Jersey that I simply will not abandon."
Christie has been governor for only 20 months, but many political analysts argue that Christie could have been a formidable competitor – both as a challenger to former Massachusetts Gov. Mitt Romney and Texas Gov. Rick Perry for the GOP nomination, and to President Obama in the general election.
His blunt, no-nonsense style captured national attention soon after he won office in 2009. As a Republican governor in a Democratic state, Christie has engineered big budget cuts while working across the partisan aisle and winning concessions from labor unions.
Christie also demonstrates a passion, even anger, about the state of the country that Governor Perry and Mr. Romney have failed to match. And with the public's trust in government at historically low levels, Christie could have pitched himself as a fighter who would get the nation back on track.
---