As debate approaches, Republicans, conservatives target Newt Gingrich
As front-runner in the Republican presidential nominating race, Newt Gingrich is a natural target for critics. At this point, it's mainly conservatives and fellow Republicans questioning his character and leadership qualities.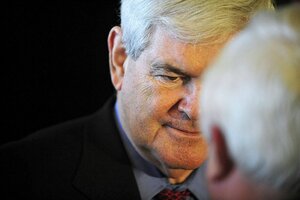 Rainier Ehrhardt/AP
When you're the front-runner in your party's presidential nominating race, as Newt Gingrich is today, you must get used to having a bulls-eye on your back.
To put it another way, Ronald Reagan's 11th Commandment – "Thou shalt not speak ill of any fellow Republican" – will be tossed aside as the other candidates and their surrogates pile on like defensive linemen on a scrambling quarterback.
That's the situation Gingrich finds himself in today as some who served with him when he was House Speaker in the 1990s, Republican strategists working today to oust Barack Obama, and conservative pundits unsheathe their rhetorical knives.
Saturday night is an important point in the GOP's nominating race – a debate at Drake University in Des Moines, Iowa. Gingrich will be the center of attention in a smaller group of six debaters, since Herman Cain is history and Jon Huntsman got disinvited because his poll numbers are so low.
The voices of criticism are numerous and growing.
John Sununu, former chief of staff to President George H.W. Bush: "Gingrich "is more concerned about Newt Gingrich than he is about conservative principle."
---
Follow Stories Like This
Get the Monitor stories you care about delivered to your inbox.