Herman Cain and Sarah Palin: Do they still have political clout?
Sarah Palin is defending Newt Gingrich from establishment Republican attacks, and Herman Cain has given Gingrich his full endorsement. But will support from these tea party superstars make any difference?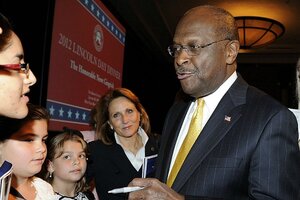 Doug Murray/Reuters
When the political history of this era is written, two of the most colorful figures are likely to be Sarah Palin and Herman Cain.
The once-obscure former governor of Alaska, picked as John McCain's running mate in 2008, went on to create a Palin-centric industry as public speaker, author, reality TV star, Fox News commentator, and potential presidential candidate who made tons of money while tantalizing millions of tea party supporters around the country with suggestions that she might run this year. She was (still is) catnip to the media.
Herman Cain, the businessman who'd never held elective office, similarly dazzled the tea party with his conservative policy positions, his self-confident and humorous manner, and an ability to hold his own in those early crowded debates with career politicians. That he's African American seemed to dispel the charge that the tea party movement was tinged with racism. For a while, he was winning straw polls, but he had to "suspend" his presidential campaign when a series of women made allegations of sexual misconduct.
How well do you know Sarah Palin? A quiz.
As the Republican nominating campaign has been whittled down to a four-man race, becoming a gloves-off rhetorical fight – mainly between alternating front-runners Mitt Romney and Newt Gingrich – do Herman Cain and Sarah Palin have any remaining political clout?
---