Sarah Palin speaks, but are Americans heeding her anymore?
(Read article summary)
Sarah Palin is speaking out about alleged insider trading by members of Congress and is shopping a new reality TV series. But networks aren't biting, and some analysts doubt her star can rise again.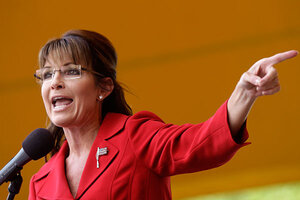 Stephan Savoia/AP
Long live Sarah Palin?
The former GOP vice-presidential candidate is back in the news, tangling with Washington insiders such as Sen. Joseph Lieberman (I) of Connecticut over alleged insider trading and "sweetheart land deals" by members of Congress (see also Tuesday's op-ed in USA Today) and shopping a new reality TV series featuring her husband, Todd.
The one-time GOP kingmaker – who said Oct. 5 she would not run for the party's presidential nomination but who has yet to endorse a candidate – proved to be a force to be reckoned with during the 2010 midterm elections. But analysts now are divided over Ms. Palin's political influence on the election cycle ahead, with some saying her star has waned so far it's about to drop into the ocean and others noting that she remains popular with her base and is even "electable."
"Palin is trying to reposition herself to have influence in the upcoming political season," says Atlanta-based Republican strategist David Johnson, an adviser to Sen. Robert Dole during his 1988 presidential campaign. This is a tough path, because she has lost so much credibility with even her committed followers. "Many expected her to carry their values forward, and instead she seemed more interested in pursuing her own celebrity," he says.
---