Romney vs. Obama: weak challenger faces weak incumbent
After five decisive primary victories Tuesday, Mitt Romney promises 'a better America' to general election voters. He has work to do on likability, but a weak economy hobbles Obama.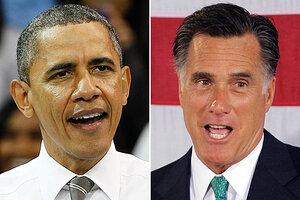 AP
For Mitt Romney, now begins the hard part. Five decisive primary victories Tuesday confirmed that he will be the Republican Party's presidential nominee in November. But as Mr. Romney squares off against President Obama, he faces multiple challenges.
Romney is still not well known to general election voters, and polls show he faces a massive deficit on likability against the president. Though he governed solid-blue Massachusetts as a moderate, he has spent the past six years trying to recast himself as a conservative. His party's base is rallying around him, but not with any marked enthusiasm.
And in perhaps his biggest challenge, Romney is up against an incumbent president who faced no primary challenge and has been actively preparing for the general election for more than a year. Mr. Obama brings to the table all the fundraising, organization, and media attention that naturally flow to a sitting president.
Despite it all, Romney begins the general election season polling close to Obama, who is hobbled by a weak economy. Republicans, fueled by the tea party anger that burst forth three years ago, are eager to unseat him, and even if conservatives aren't excited about Romney, they are animated by the prospect of defeating Obama. Money will flow both to Romney's campaign and to the outside groups that are expected to make the campaign especially nasty.
And as a poorly known challenger, Romney has a greater potential upside with voters than the well-known president – particularly with the independent voters who will decide the election.
---