Health-care reform: Do Republicans stand to gain from repeal vote?
A new Monitor/TIPP poll finds that more than 1 in 4 Americans are more likely to vote for Mitt Romney after the court's landmark health-care reform ruling. But that doesn't mean that Republicans will gain from a repeal vote.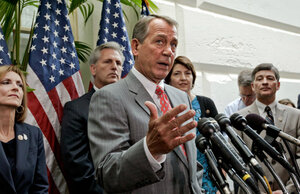 J. Scott Applewhite/AP
When the US Supreme Court recently upheld President Obama's health-care reform law, its surprise decision appears to have tilted a substantial number of Americans closer to supporting Republican challenger Mitt Romney when they vote in November.
That's the finding of a new poll conducted in the wake of the high court's ruling.
For political independents – the voters likely to cast the decisive votes this fall – 26 percent said the court's ruling makes them more likely to support Mr. Romney, according to a Christian Science Monitor/Investor's Business Daily/TIPP poll. By contrast, only 14 percent said the court ruling makes them more likely to support Mr. Obama.
But the politics of health care is nothing if not complex.
Even as the court ruling appears to help Romney's cause, that doesn't necessarily mean congressional Republicans stand to gain in public opinion from their decision to hold a "repeal Obamacare" vote this week.
Like Romney, House Republicans have pledged a "repeal and replace" approach to the 2010 Affordable Care Act (ACA). But as conservative lawmakers seek to move down that path, they face two discomforting facts: Many Americans don't want the law repealed, and many are skeptical of whether Republicans have a good "replace" plan to offer.
Some Americans wholeheartedly reject the ACA, but many are more ambivalent. They may like core provisions of the law even as they worry about its impact on health-care costs and on the size of an already large federal bureaucracy.
A new ABC News/Washington Post poll finds a rise in support for the ACA since the court ruled. Its July poll finds 47 percent of US adults supporting the law, and an equal number opposed. Back in April the "opposed" camp led by 14 percentage points.
---