For Romney and Obama, it all comes down to 'the persuadables.' Are you one?
Swaying the 6 percent of likely voters who haven't yet decided could determine the presidential election. Who's really left to convince in an election where the differences between Barack Obama and Mitt Romney are so stark?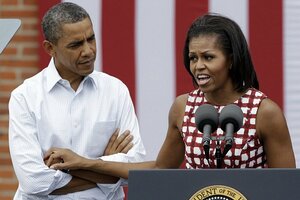 Charlie Neibergall/AP
President Obama hit the "Morning Mayhem" radio show in New Mexico this week, talking up soul food and super hero powers. Meanwhile, Paul Ryan, Mitt Romney's running mate, is in Florida, chatting Medicare with seniors, his elderly mom in tow as proof that he's not about to throw "granny off a cliff," as critics have suggested.
As the final leg of the 2012 election approaches, the gambits are telling: After nearly endless primaries, base voters on both sides are largely locked in, ready to vote.
So, what's really at stake now are perhaps 6 percent of likely voters who are still undecided. What's more, according to recent polls, nearly 20 percent of those voters would consider changing their mind. And then there's the 80 million or so "unlikely voters" – Americans largely turned off by politics and Washington cynicism who, nevertheless, could make a huge splash if even a small percentage decided to vote after all.
Seen that way, it looks like the race is wide open with the two candidates running neck-in-neck in major national polls.
IN PICTURES: on the campaign trail with President Barack Obama
---